I thought it was high time that we FHFteam admin volunteers introduced ourselves (mug shots and all!). We keep things ticking over by doing all sorts of administrative tasks, trouble shooting with technical stuff and the general kicking around of promotional ideas for FHFteam.
Jolene Wolfe
My name is Billie, I am a self-representing artist handcrafting flameworked glass beads in my home studio in France. As well as UK publications, my work has been featured in Step by Step Beads magazine (collaborative piece with Lynn Davy/Nemeton), and can be seen on pages 46 and 125 of the Kimberley Adams/Michele Sauvelle published book - Verre et Flame: Creation de Perles de Verre. I sell my work predominantly through The Art of Good Taste gallery in Limpertsberg, Luxembourg and on Etsy. I am SRA and SRAJD registered, and a member of GBUK. As well as being a glass artist, I am mum to two beautiful girls - Daisy (aged 6) and Ruby (aged 4), wife to James, and carer of two house rabbits - Twinkle and Lulu.
www.billiejeanlittle.etsy.com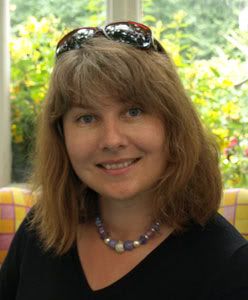 Julie Haveland-Beer

Three little people call me Mummy. Some friends call me Jules. But most people call me simply Julie :D I speak with an accent, and probably type with one too - it originates from the beautiful west coast of Norway. In 1996 I married a true Devonian, and we live in Westward Ho!, where every day I wake up to the sight and changing moods of the Atlantic Ocean.
I started bead making two years ago, after several years of creating jewellery using chain maille techniques, PMC and fusing. When Jolene initiated the Frit Happens! Etsy street team last year I saw that as a great opportunity, opened an
Etsy Shop
and joined.
My main admin duties within the team have been to help with the layout of the team blog and making sure all our members' Etsy shops are linked to it. I have also assisted our members in setting up twitter and hootsuite to work for them.
I'm Emma, I live in the heart of the Lake District with my partner, several rapidly growing-up children, cats and ducks. I am a lampwork artist working with borosilicate glass to produce beads, knobs, cabochons and other items. My work has become increasingly sculptural and off-mandrel and my aim is always to produce work that is useful in some way as well as looking good. One of my lampwork knobs was featured in the Flow Magazine Spring edition gallery, having won second place in the Glass Challenge Sept/Oct 2009, and my work is for sale through
Etsy
and from my website,
www.theflyingbead.co.uk
Jolene Wolfe

My name is Jolene, though most people call me Jo and I have been smitten with lampworking since June 2007. I think of myself as a tame pyromaniac. In April 2008 I took a week long class with Sally Carver and Diana East, July 2009 a class with Dora Schubert and in April this year I spent two days on a glass master class with Andrea Guarino.
My Daughter Ruby arrived in September 2008 and she totally changed the direction of how I approach lampwork. I often feed my addiction to melting glass by making twisties, shards and murrini, projects that could be picked up and put down to suit baby nap times. my website for glasswork is
www.kitzbitzartglass.com
I do also make beads sometimes which I sell on
Etsy
I am expecting our second baby in October this year.
I started FHFteam last year after seeing that there were quite a few people on Frit Happens! who were interested in belonging to an Etsy Street Team and now my jobs for the team involve general admin tasks, new member info and managing the
FHFteam Etsy Hub Page.
I also do a lot of blogging about the team and run the team
twitter
feed.
My name is Rachel and I have been working with glass since 2000. I have a degree in it from Edinburgh College of Art, graduating in 2007, although it took another 18 months before I bit the bullet and went into business for myself with my own studio in January 2009. There are very few glass disciplines I have not tried and I've even mastered a couple of them too! The studio is mainly equipped for kiln work with a few torches thrown in for flamey fun. My work can be found in various exhibitions in the UK and sometimes abroad, with details of current events on
my website
and I also sell from my
Etsy shop
too. My website also has details of any workshops I'm teaching as well as my CV, which has full details of all my past glassy deeds, if that's of interest!
My role within the FHFTeam is basically living in the world of
Facebook
and helping others to use it to full advantage with various easy yet effective activities. I'm also happy to help in any way I can with all things glassy having a knack for being able to troubleshoot my way out of most problems!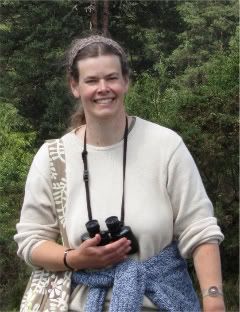 I'm Lynn and I make things out of beads - mostly tiny seed beads. I love lampwork and use lots of 'lampies' in my designs, although I'm too much of a wimp to torch myself ::) Colour is my 'thing', preferably lots of colours put together in an interesting and possibly random way, although recently I've been experimenting with more monochrome and structural ideas too. I've had quite a few projects published in various beading magazines since 2006, with more in the pipeline, and I sell tutorials, kits and the occasional piece of finished beadwork at
www.etsy.com/shop/nemeton.
This year I made it into the finals of the US 'Bead Dreams' competition for the first time, and was a finalist in the Ugly Necklace Contest for the fourth time in a row - kind of 'from the sublime to the ridiculous'! But that just about sums up my approach to beading ;D
I'm George - not Bob - and I'm primarily a metalsmith and mailler. I work with mainly with silver, but with other metals too, but have a passion for glass and love to combine it with other materials.
I worked in advertising for nearly 20 years before having my daughter, and wanted to get back to making things with my hands, which led me through paper and mixed media to metal and beads. As well as making jewellery, I make a range of specialist findings for other designers and makers, with many created especially to compliment lampwork beads. I sell on
Etsy
and through my own website
www.designedbygeorge.co.uk
and I am hugely proud to be the inaugural chairman of the
Guild of Jewellery Designers
Making lampwork beads is my hobby - I don't make beads to sell, and don't really want to, but I do occasionally sneak a few of my own beads into finished jewellery.